Battle of the Lion Kings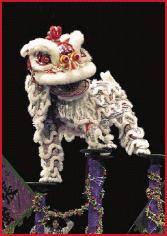 As part of my birthday, I got tickets to the Manitoba World Invitational Lion Dance Festival. This has been something that I have wanted to see since I heard about it. Teams from all over the Came to our city to participate.
There were 5 teams.
Team Canada
Team USA
Team Hong Kong
Team China
Team Macau
I truly felt as if I was watching an Olimpic event,I got all teary eyed when they played O-Canada/God Save the Queen.
The goal of each routine is to tell a story of the lion climbing up a mountain searching for the flower of immortality. Upon finding the flower of immortality, the lion eats it, but soon feels remorseful and spits it out. With the poles representing the mountain, ranging from 3 to 9.5 foot high, it leaps its way up till it reaches the flower. Elaborate spitting and washing ritual of the lion is part of the traditional dance. While on jumping up and down the mountain, the lion's expressions of happiness, excitement, and fright are portrayed as much as possible like a real animal.
Canada came in last, however, it was an honor to host, and an even bigger honor for me to be there. I wouldnt have missed it for the world. If you are interested team
Macau
Won and along with winning they were the only team other than Canada to not fall off their poles.