Tabbouleh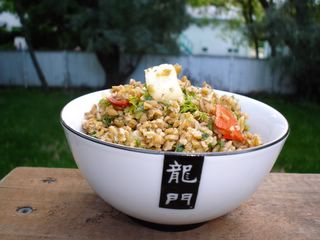 This is a totally Vegan Dish. I love this ever since a friend brought it over for a dinner party one day. This is the first time I have made it and it turned out well, and it made lots, this is great for me because I can have this for a quick snack before bed.
Tabbouleh

The Hardware
Knife
Large Bowl
The Software
2 C Bulgur wheat
3 C Parsley
4 Tbsp of dried mint
3 Green Onions Chopped fine
2 Tomatoes Chopped in 1" pieces
1 Cucumber Chopped in 1" pieces
1 Avocado Chopped in 1" pieces
Pepper and Cumin to taste
Juice of 3 small limes
3 Tbsp of Olive oil
The Application
Place all items in a large bowl except the lime juice and olive oil. Mix them all well and then add the lime juice and refrigerate overnight. Before serving Toss with olive oil and then serve.
-end post