Blogging by Mail 2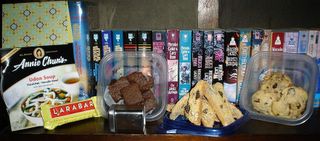 Ok I sent my Blogging by mail entry and I thought I recieved my package,,, but much to my suprize I was WONG Bing bong the door bell rings and our postman hands me a package. I was totaly shocked
Samantha
was my real exchange partner and the previous package was a just gifty from
Nic
I was super shocked and Surprised.
A List of the yummies
1. Chocolate espresso Brownies
2. Cherry Biscotti
3. A LaraBar
4. Chocolate Walnut cookies
5. Loose tea, Earl Grey, From
adagio.com
6. Annie Chung's Udon Soup
7. A Cd of Funky music
8. A list of Samantha's fave recipes
What to say I am over the moon.... I will deffinatly participate in the next one YOU should too
Samantha
will be hosting so keep an eye out for it!