Pizza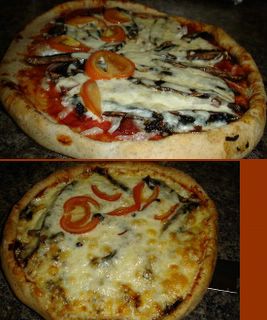 We got the AC fixed today in the house... 200. Dollars... AND the wonderfull news that our AC would hopefully last through the summer, the repair man said that it looked about 20 yrs old and a new one would cost about 1800 dollars.
so that being said we need to start saving for next summers AC exspence this means NO eating out, NO coffee out, No nothing,,, so when we want pizza it means make it our self... so I did
Portabella & Salami Pizza
with Tomatoes (on my half)
The Hardware
Large bowls
Pizza pan
Knife
The Software

1 1/2 c White flour
2c whole wheat flour
1tsp salt
1tbsp sugar
1tbsp yeast (Instant)
1 1/2 c warm water
3tbsp oil
Toppings
Tomato paste
Oregeno
Mozza chease, shreaded
Portobella Mushrooms 1/8 inch slices
Onion Sliced thing
Salami
Tomato
The Application

Mix all the dough ingreadients less the whole wheat flour together until moist, gratually stir in the whole wheat flour until you can turn out on to a floured table. Kneed for about 3-4 min. Cover and let rise till double in size. Punch down and then separate into 3 and let rise again. Then roll out and add toppings..
Toppings: I use just plain tomato past then a bit of oregeno, small handfull of chease, meat, mushroom, onion, top layer of chease, and then tomatoe.
The Pie should go on an oiled pan into a 350 degree oven till the chease is golden.
-end post