Fishy II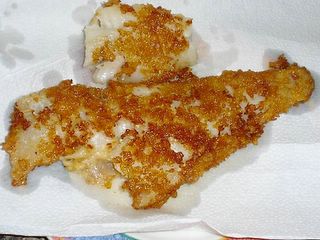 Fishy II
My gurl got a hankering for McD's fish sandwich, and as it is on our list of Ban food resturants I decided to make fish at home and make her own fishwich... I breaded the fish and had a bit myself.
Fried Fish.
2 Fillet of cod.
2 cups of Corn Flakes Crushed..(fortified with vitamins)
1 egg
1 cup flower
Oil.
Dredge the fish in flower then in egg
then drege through the corn flakes
FRY in a pan with 1/4 inch of oil..
flip whe you see the colour change on sides..
I served my piece with a touch of white viniger... could have used lemon..
-end post..
ps strawberry shortcake didnt fit the requirments of IMBB so it was back to the jellied drawing bord.